Thanksgiving is such a special time for celebrating with family and friends and if we are hosting, we want our home to feel warm and welcoming, especially the table we will gather around.
Here are some super easy decor ideas to help you create a beautiful welcoming feel, and leave you time for the cooking.
Glass vases in different heights are a must in every home because they are so so versatile! You can use vases in so many different ways all year, not only on a dining table but on the mantle, coffee table, and every room in the house.
Here the corn and leaves immediately make them a fall decor item. Candles add the warm and cozy feel. Easy right? They can be set on a tray, as they are in this picture below, or lined up side by side on the center of the table.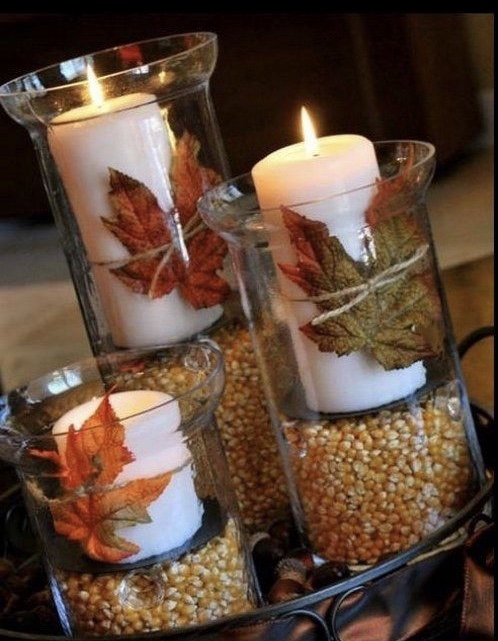 source
Here are other easy variations with candy corn or nuts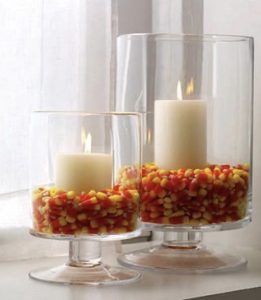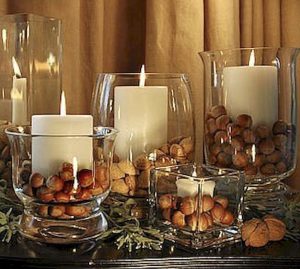 Pumpkins come in a variety of colors and can make beautiful centerpieces. The white pumpkins below create a feel of simple elegance with the softness of the greenery.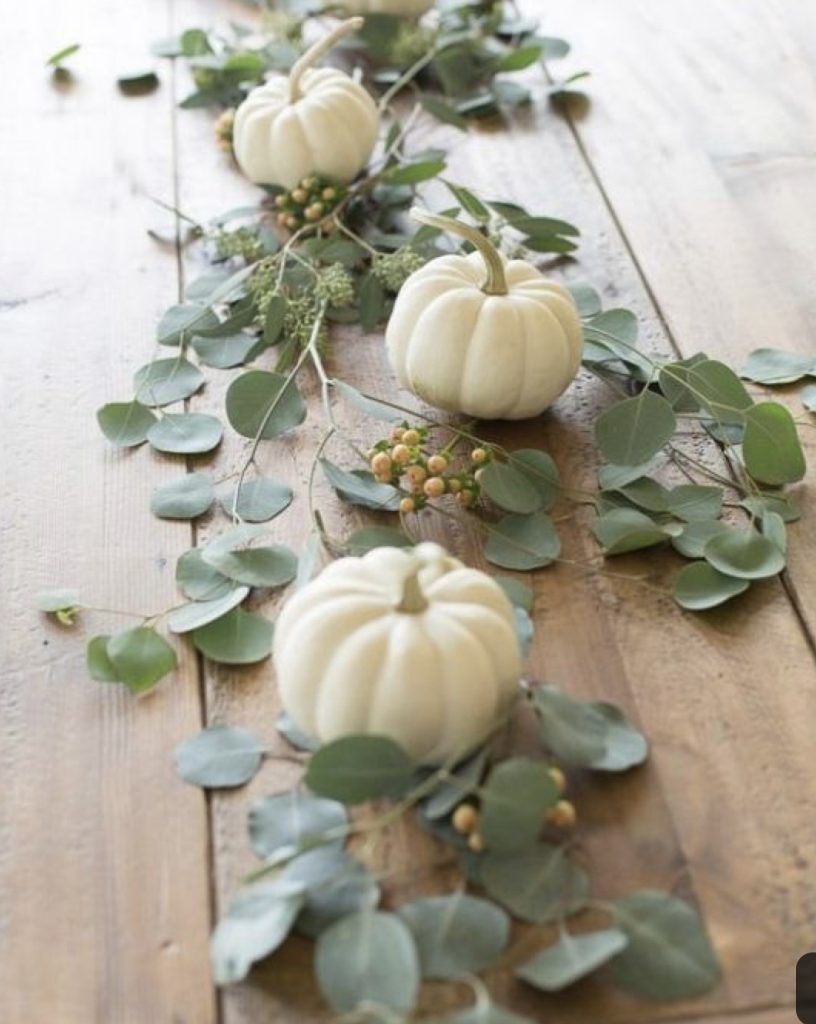 The gold pumpkins make it more formal and the votives add to the ambience. You can either spray real pumpkins with gold paint or buy fake ones that are gold..easy!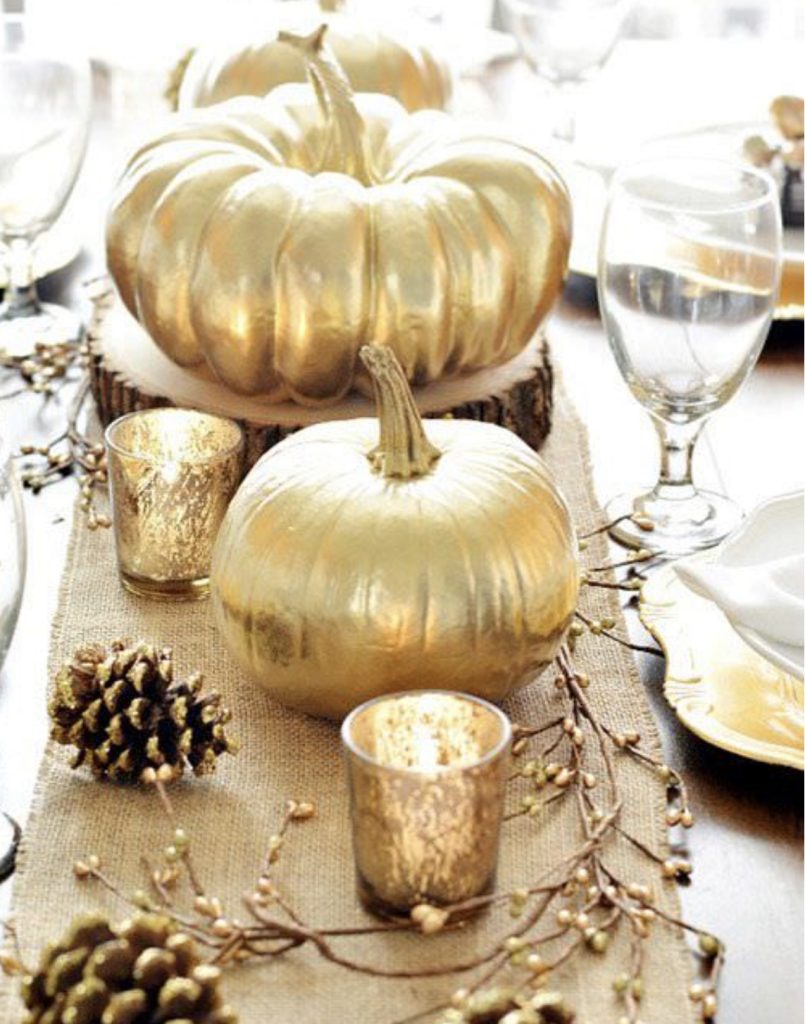 Using a tray or plate to create the arrangement makes it easy to give it shape and to move it if needed. Add a variety of textures with pine cones, greenery, florals, berries, etc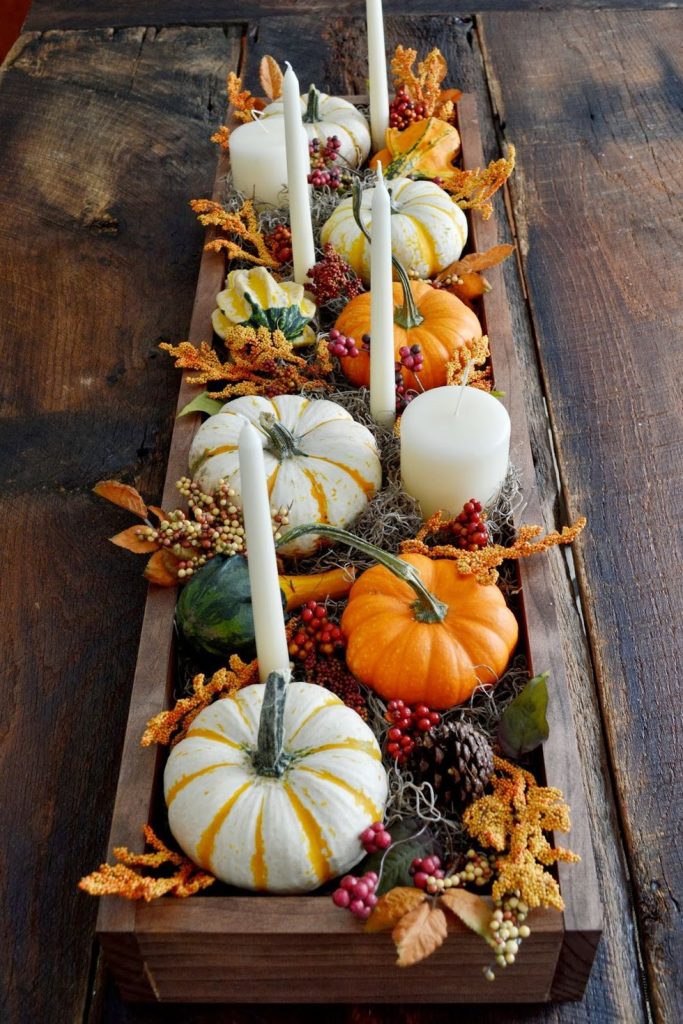 source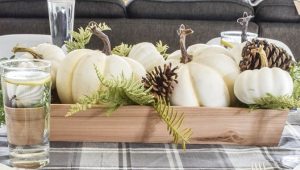 The simplicity of apples adds beautiful color to the arrangement below.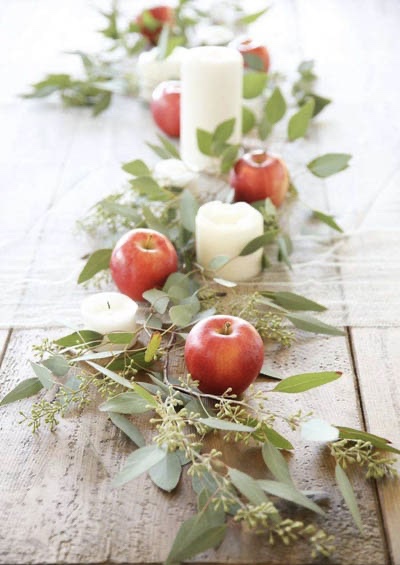 3 Helpful Tips:
1) Before you do a centerpiece that spreads across the table, make sure you have another place to set the food.. a side table, buffet, etc  Otherwise do something minimal that still leaves space for food at the table.
2) Keep your centerpiece low enough to see the people across the table.  After all, thanksgiving is about sharing a meal and conversation. These centerpieces below are beautiful to display the rest of the season, but too tall for the actual meal. Instead use them at the side table.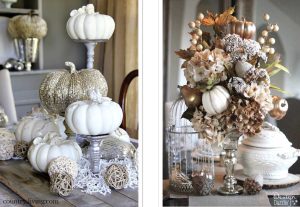 3) Choose a style that goes with the style in the rest of your social areas.  If your home is formal, do something a little more formal such as the gold pumpkins, white or off white candles.. If your home and furniture are rustic, do something more informal with a touch of rustic.
Most of all, let's share Thanksgiving with family and/or friends, let's be kind and grateful, because even during tough times we have a lot to be grateful for!
Have a blessed and wonderful thanksgiving!
Eleida
Next Level Interiors