A large arched window that needed window treatments…
The most appropriate choice for this window was curtain panels. They did not need treatment to be functional (open or close) since there was neither a light or a privacy issue.  Next came the discussion of where to mount them. The client thought we needed a pole under the arch. My recommendation was to mount high so the space would not look visually short.
A basic digital drawing can show you the difference in how treatments may look.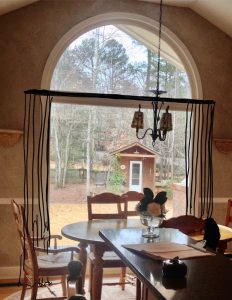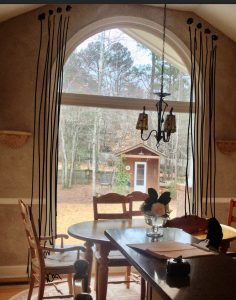 The challenge with mounting high was the sloped ceiling, which would not allow for a straight pole.
However, mounting on medallions allow us to follow the slope of the ceiling. We angled the top of the treatment at that same angle.
A saturated print made the panels stand out in the room, and the height accentuates the beautiful window and high ceilings…a next level look!
Schedule your window treatment consultation today, and take your space to the next level
Is custom the way to go with window treatments?
Window treatment asymmetry that works
Why I almost always specify blackout