What to Show and Not to Show
You may have selected a great design and fabrics for your custom window treatments but how it is installed is also a very important detail.
This is a beautiful valance – great fabric, detail, and it looks very well made. My only suggestion would have been to mount it a little bit higher so that the top frame of the window doesn't show. This would be especially important if the fabric had been darker and there would have been more contrast of color with the painted frame.
This next one we made for my client is a good example of a similar treatment. It is a bit longer and we mounted it higher to cover top of window frame.  It also gives the window more height. We measure all spaces around the window to know where we should mount and how the treatment should be made, so you get not only a custom-made window treatment but professionally installed.
Both treatments use fabrics that complement each other well and look great in the space.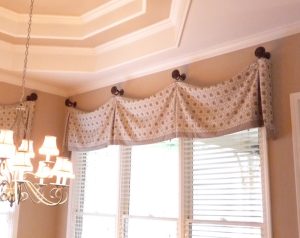 Want help choosing fabrics, colors, and the perfect window treatment for your home?  Schedule your in person or online consultation for a completed, beautiful, next level home.
E@nextlevelinteriors.com
Top treatments that top others