My clients that have high ceilings or two-story rooms are often hesitant to mount window treatments all the way up. Almost always my recommendation is to go up and mount high. Let's take advantage of the height to take the eye up and create a dramatic next level look!
 An app allows me to digitally give you an idea of the look you can get. This client wanted to mount under the arch. I was able to convince her that going up was the right choice, and I'm so glad we did. Mounted under that big arch would have made them look too low. We mounted the panels on medallions to be able to follow the angle of the ceiling and go high.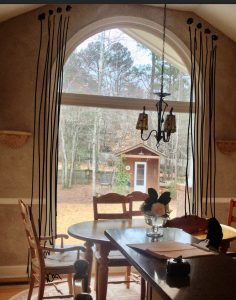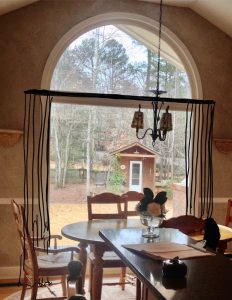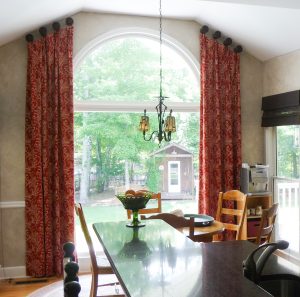 I had these two story panels also installed on medallions, this time to follow the arch of the window.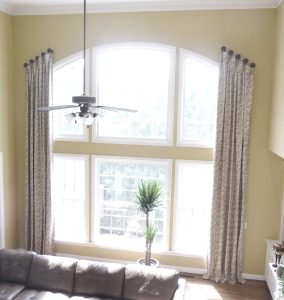 In this living room there was not enough space beside the fireplace mantle for window treatments, so we did asymmetrical panels mounted all the way up. The frame the whole wall and make the room look wider and taller.
For this two story bay window we also went all the way up. The color is gorgeous in the room and the height is dramatic.
If you have height in your room, take advantage of it and go up with window treatments.
With my turnkey service I worry about the details, so you don't have to. From design, fabrics and hardware selections, to installation.
So let's go up, up, up and give your room a next level look!
Need custom window treatments?  Schedule your in-person or virtual consultation today!
Top treatments that top others
Making virtual e-design work for you
Why I almost always specify blackout