Styling is what completes your design! It's about adding the right mix of accessories and finishing touches in the right styles, sizes, textures and colors, and often grouping them in vignettes that are arranged following design principles.
Styling is a must for your home to look and feel well put together and complete.  The beautiful rooms you admire on Pinterest, Instagram, or magazines have all been styled.
Even simple details, such as adding a pillow to a chair, have a big impact on the final look.  Remember to add your style and personality, and choose items that reflect that.  It could be using your favorite colors and patterns, or items related to hobbies, travels, or the area of the country you are from.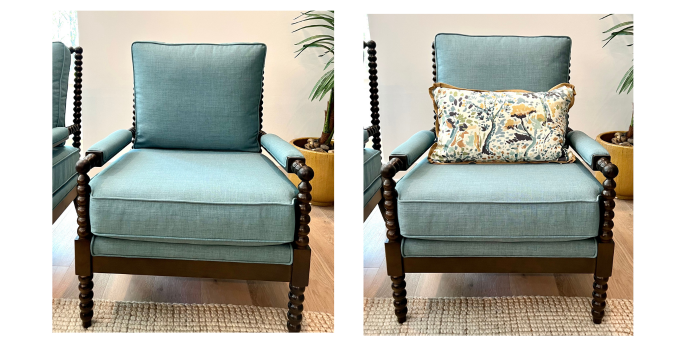 If there were 5 homes with the exact same floorplan and furniture, you could make each one look unique by the accessories you choose and how you style them. 
I am giving you tips and ideas so you can style and create your next level look. Rules are meant to be broken but these basic design guidelines are a great start for styling your home. Make it beautiful and livable…make it your next level home!
Styling Horizontal Furniture Spaces – Consoles, Media Cabinets, Dressers, Coffee Tables, Mantles…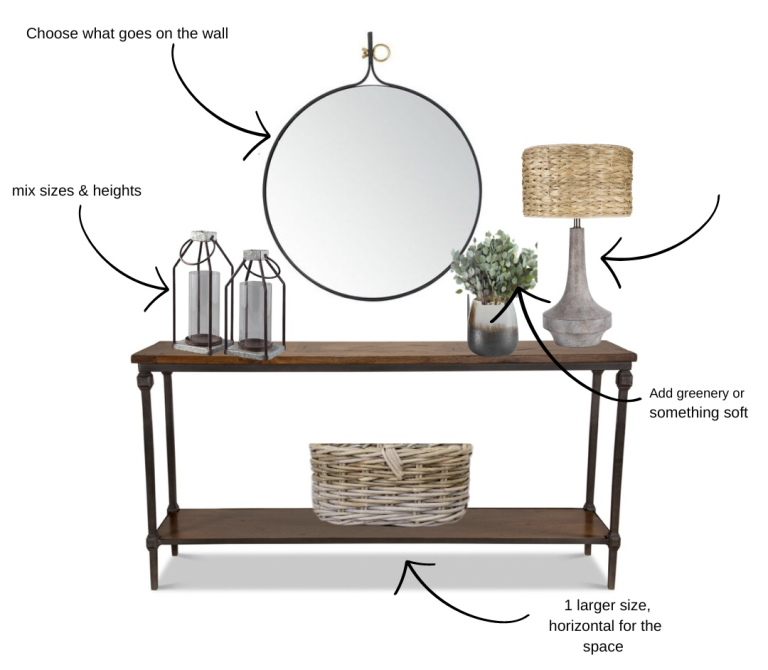 1. Choose what goes on the wall – a painting, mirror, metal art, pictures, tv, a collage of different items…The rule of thumb is to make it about 2/3 the width of the furniture below it. 
2. Balance items on both sides of the surface grouping different sizes and textures
3. Add softenss with plants, other greenery or florals
4. Some items should relate to each other – by color, material, shape. Picture above shows metal lanterns that relate to table legs and mirror, lamp color relates to vase, shade relates to basket.
5. Mix materials for different textures – metals, woods, glass, ceramics. Include something soft to balance hard finishes – plants, florals, moss balls, ribbon, etc. 
6. Mix shapes, not only within the furniture accessories but also with what is on the wall or around the piece.  If you have all square and rectangular shapes on the wall and furniture, it's ok to do more round shapes on the accessories.
7. You may use trays or plates to group accessories
8. Think of how you use the space and include accessories that are appropriate to your lifestyle – if you have toddlers, choose wood or woven pieces on low areas vs glass, if you love books or magazines include those in the design, use basket, decorative bowls or boxes for remotes, toys, etc. It's about function, balance, scale, placement, and the right mix.
Styling Shelves and Built-Ins
1. Group accessories to create collections and vignettes, including different sizes and textures
2. Leave spaces open between groupings for the eye to rest and avoid a cluttered look. Not every inch of surface needs to be covered. 
3.Avoid having all the tall or heavy items on the same side of all the shelves. If one shelf has tall items on the left, the next should have them on the right or center for a balanced look. 
4. Repeat some of the same textures and colors throughout the shelves.
5. Add something soft – plants, greenery, florals, moss, soft wicker…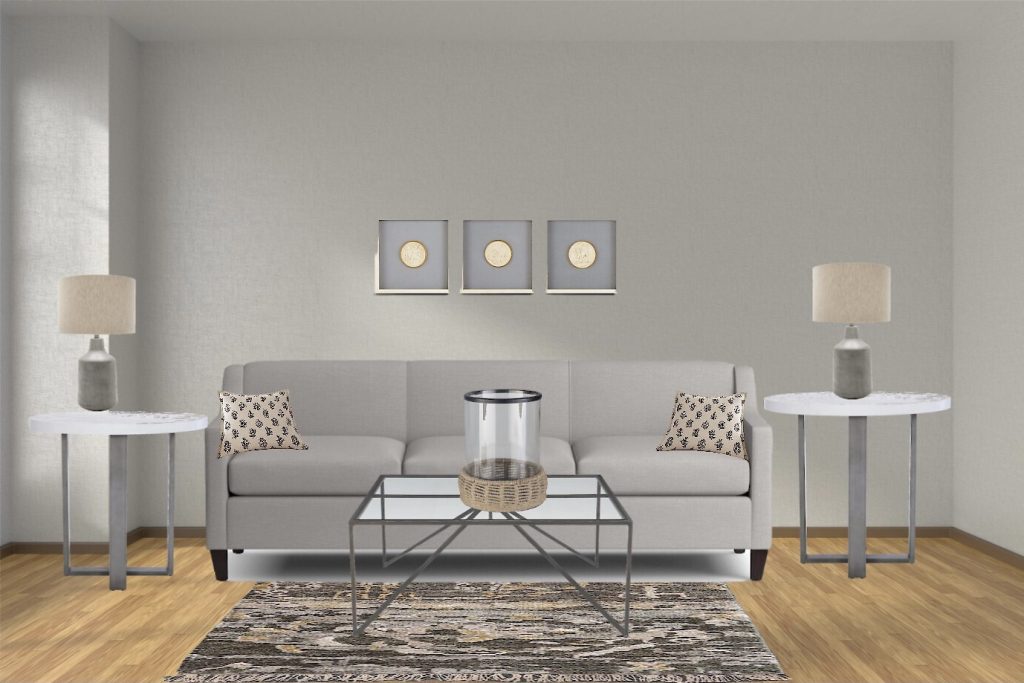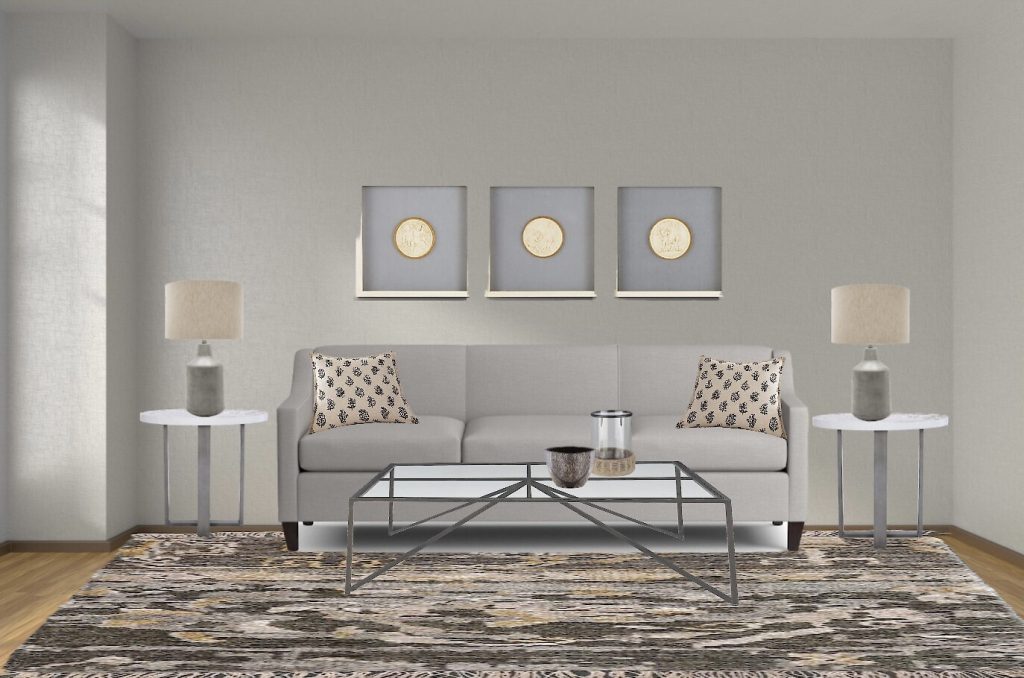 1. Start by determining the size of the piece or pieces you need for the wall. On the left you can see that the sizes are too small to be the right scale for the sofa or wall. On the right the scale is appropriate. As a general room 2/3 of the wall or furniture piece below is a good size. 
2. You may choose one piece or group 2 or more. 
3. Use different shapes and groups on different walls in the room. If one wall has one large horizontal piece, have another wall with a vertical piece, and another with a grouping of smaller pieces. 
4. Have the wall art work with the rest of the decor. 
5. Be creative! You can display collections, family photos, a mix of art and metal, layer it on a cabinet, and more.
Whether it's a chair, sofa, bed or bench, pillows and throws are great for styling. They can add texture, color, and patterns. You can even start your color palette with a pretty pillow print and pull colors from there for the rest of your accessories. Keep the seating comfortable. For sofas use at least 2 square pillows, and if you have deeper seats, add more. You can add two in a different size and/or a lumbar pillow also. A throw makes the space look cozy, and it is not only decorative, but can be useful on cold days too. Drape it at the end of the bed, on a chair or sofa.
Styling is the last layer to complete your design. It can add personality and tie everything together for a next level look you'll love to come home to!
For specific ideas and advice about your home styling, schedule your in-person or e-design virtual consultation today!