Gray is still a popular neutral for furniture, accessories, and certainly for paint.
But do you find yourself looking at tons of different paint chips wondering which gray to choose?  The first thing to know is that gray has 3 main undertones:
Blue, Red/Violet, and Green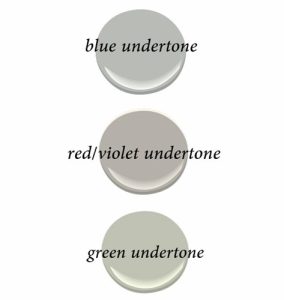 If you know which undertone is already or furnishings and accessories, then it's easy to stay within those same undertones. Ideally we shouldn't use more than two in the same room to make it look well put together.
Blue grays will always look bluer on the wall than on a paint chip. If you don't want it to look like a baby blue, pick one w a very slight blue undertone or one that is darker. They work well for bedrooms and baths. Some Sherwin Williams gray blues to check out are SW6534 Icy, SW6246 North Star, SW7071 Gray Screen and 7648 Big Chill.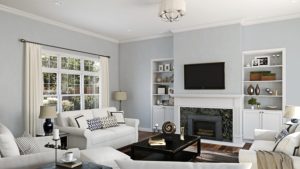 Source
Red/Violet grays have a warmer undertone. One of my favorites is SW7015 Repose Gray with a slight undertone. SW7022 and SW6001 Grayish also pretty with a bit more of the red undertones.
Starting to go into the green grays but pretty neutral is SW7043 Worldly Gray. More into the green grays are SW7045 Intellectual Gray, SW7050 Useful Gray, and SW7051 Analytical Grays.
Want to stay in the same undertone as your sofa or other furnishings?  Then try to match your fabric, rug, or accessory gray to a color on a paint strip and choose another gray from that same paint strip for your paint color.
Need help choosing just the perfect gray or color palette?
Schedule your paint consultation today and avoid costly mistakes!