It's good to be reminded that there's a good reason for the way we do things to make our window treatments better.
I recently found a great installer that does 2 story installations, my regular installer no longer loves that super tall ladder.
At the end of the installation, he said "I love the way they look and hang, and I was wondering why you used blackout lining when you don't need privacy?"
I proceeded to give him my reasons and it was like a light bulb went on in his head. That made me realize how many custom window treatments he installs that we're made without blackout lining!
Below are the panels he installed for my client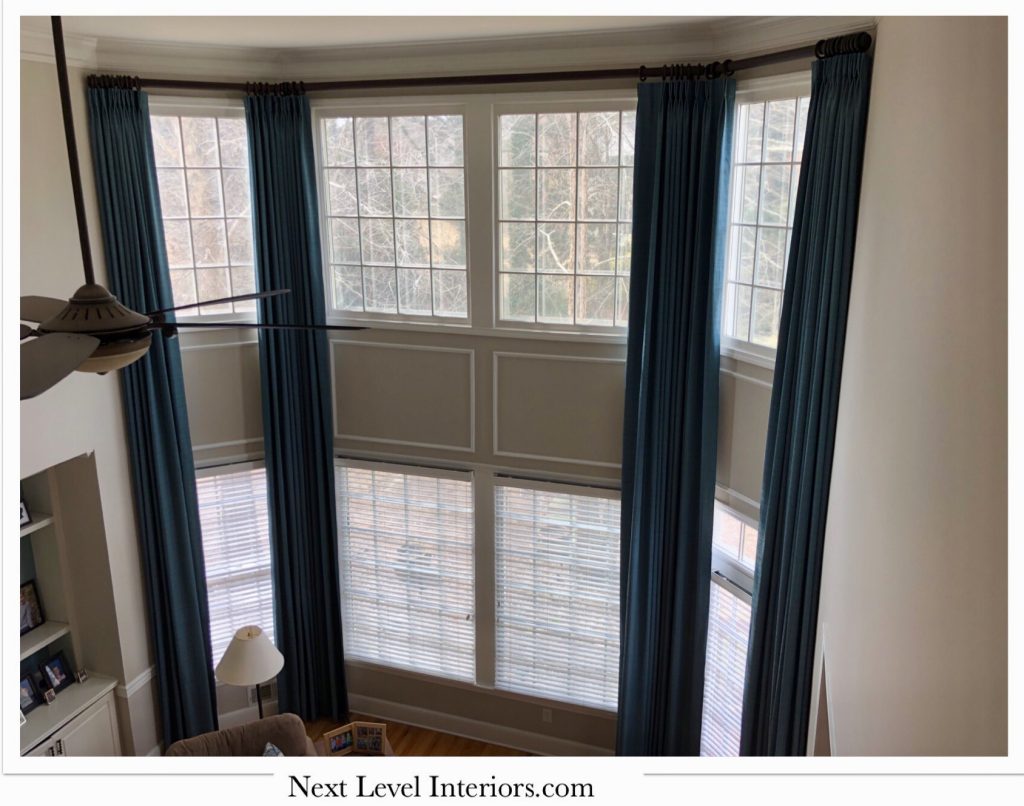 The reason I specify blackout is so that the treatment has an even "solid" look instead of parts of it looking translucent and parts of it not when the ones through them.  Without it, the color may also look different on the parts that have more direct light coming through the back.
These panels below have a standard thin lining and, even though they are nicely pleated, the fabric looks different against the wall than against the window.  I would mount them further out so they don't block as much of the window, but the light would still have the same effect along the edge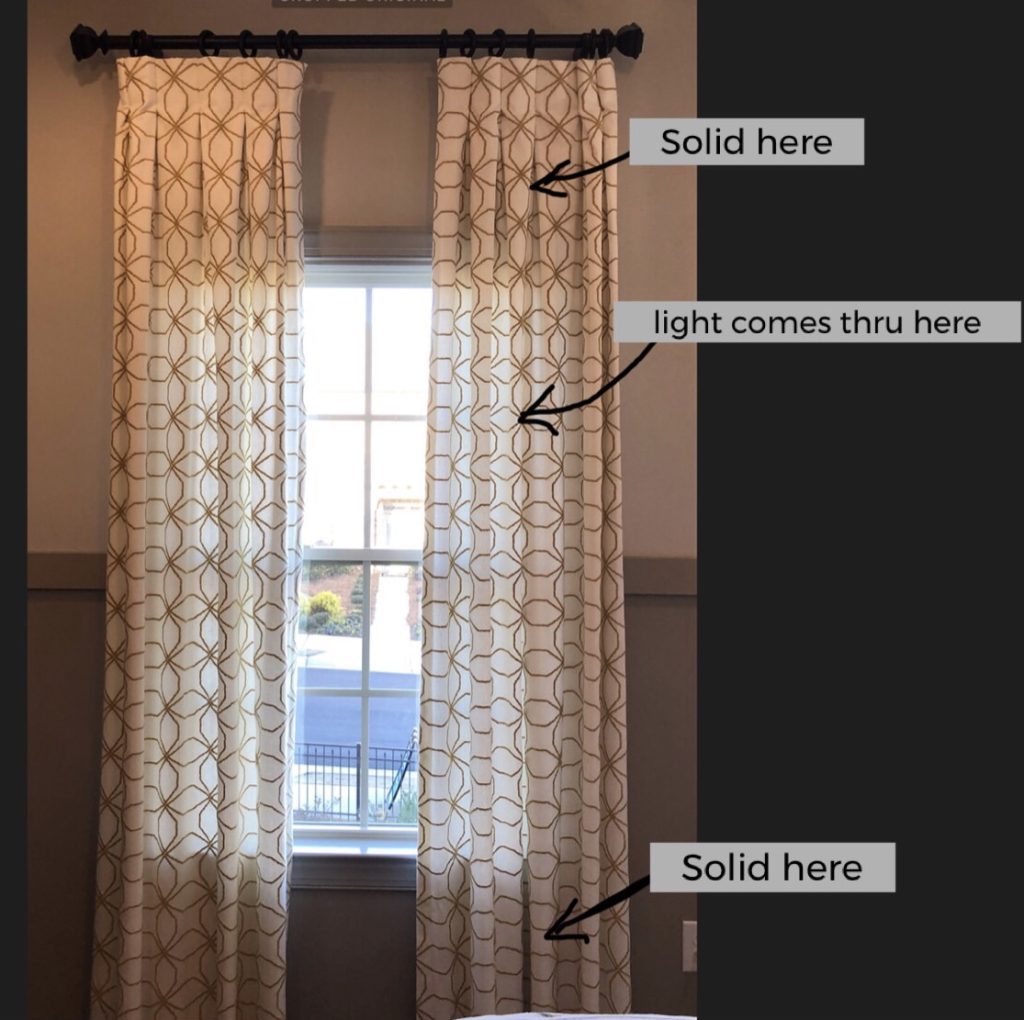 This one below is tricky because it looks well constructed and I love the creative cornice at the top. The challenge here with using blackout may have been that the curtain panel covers almost all of the upper windows so you would have to want to cover all that light. Perhaps a good option would have been to use the wall space outside the window, add blackout lining  and let them hang down straight under a wider cornice.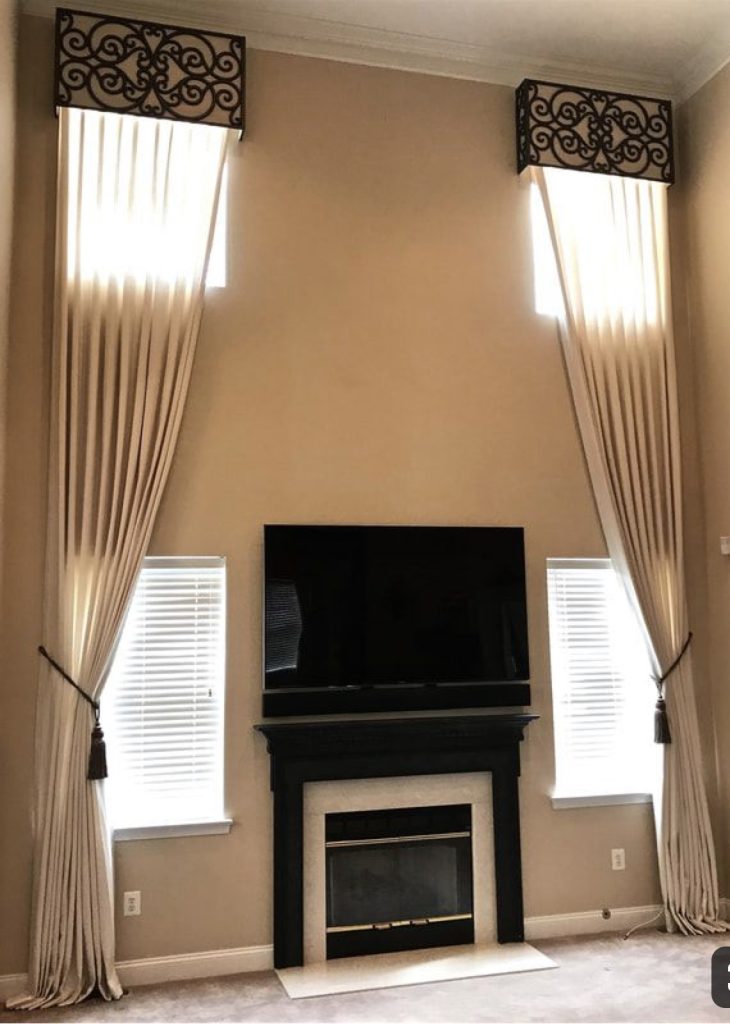 Here is what I learned many years ago about linings:
Standard lining still lets a lot of light come thru creating these uneven looks
Adding interlining to regular lining adds body but doesn't block light completely. (Interlining is a flannel like lining added between the main fabric and the lining. To add full light control a very thick bulky interlining has to be used, or regular interlining with thicker lining or blackout)
Blackout lining used to be stiff but new soft hand blackouts have been  available for several years…and that makes all the difference.
Clients don't want bulky treatments anymore so I moved from interlining with lining to blackout lining. If the fabric is very lightweight we may adjust.
The same applies to valances when it comes to blackout. We want an even look all the way across the valance, no light peeking thru the hem or any parts that are over the glass. It just looks better and more custom!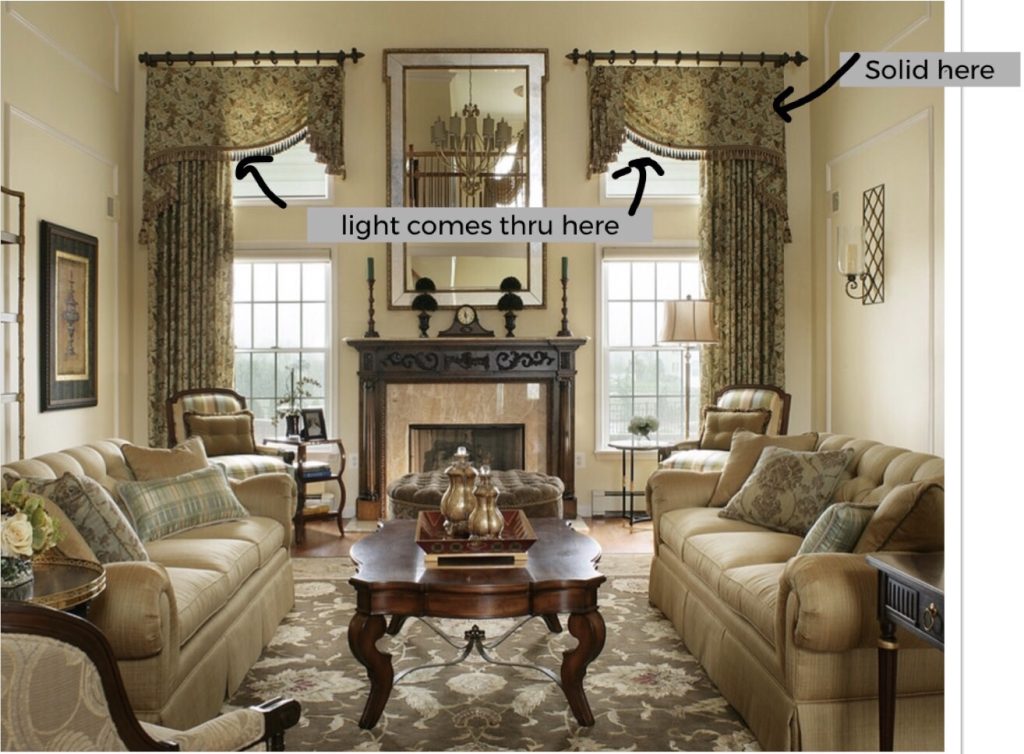 source
My opinion is that the only treatments that should be translucent are those with sheer fabrics that are meant to be unlined.
So next time you order custom window treatments, ask about the lining!
It's as important as your main fabric.
Need help with window treatments? Schedule an in-person or online consultation
Eleida  e@nextlevelinteriors.com
Is custom the way to go with window treatments
Top treatments that top others
When woven shades are the right choice