Today I wanted to share 7 classic and beautiful styled media consoles you may purchase directly through my online for designers vendor!
Because a next level look is about more than a great piece of furniture, but about the right mix of accessories too, I also share retail links so you can order accessories too. It's that easy to copy these curated looks!
Media consoles can offer a lot of storage.  Even if your TV is mounted above your fireplace, a cabinet can give you space for other stuff.  And who doesn't need more stuff storage 😉
This first console has simple lines and beautiful wood. I have styled it with a lamp and decorative figurine on one end, and a candle vase and plants on the other.  Accessories are different heights and the plants add softness. The pouf adds extra texture and pattern and can be used for extra seating or as an ottoman.
The console below has a gorgeous carved front. I'm showing how it can be styled if your TV is mounted someplace else.  Use your accent color or colors for a picture and accessories. I have mixed a mirror with a picture to make it more interesting, or you can do one large horizontal picture. The three orange accessories have different heights, again for balanced interest.  The lamp repeats the metal on the console legs.
The next console has a bit of an asian flair. This styling shows that the TV does not have to be centered over the console, but it can be grouped with a picture.  The black frame and dark charcoals in the picture complement the TV.  A mix of accessories on the console completes the look.
For more of a casual look, choose the console below. This one has been styled with colorful accessories. The lamp shape compliments the mirrors. Colors from the picture were selected for other accessories, adding a punch of blue and yellow to the room. Repeat colors in pillows, a rug, and/or furniture or window treatment fabrics.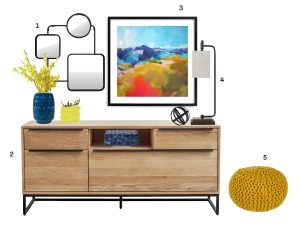 I'm seeing the rest of the room below having a blue rug, or a blue chair or sofa, blue artwork, etc.  Then the lamp, pouf and bowl below would be repeating and balancing this color throughout the room. Notice the mix of shapes in the accessories. Again plants soften the look.
If you like your decor to be symmetrical, the styling below may appeal to you. Two pictures on each side, plants in the center to soften all the hard edges, trays on each side.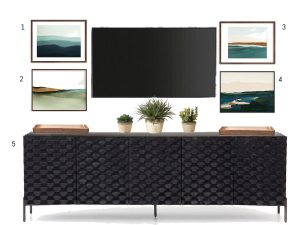 Another clean lines console in a beautiful light wood. A vertical and horizontal picture complement each other. The space under the vertical picture has been filled with lanterns and books. Florals add the softness.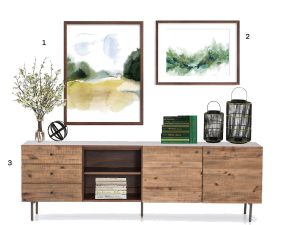 1. Picture  2. Picture   3. Console
See my full media console collection here and order directly from my online wholesaler in just a few clicks!
Want a console or a whole room designed just for you?
I work in the North Atlanta area OR anywhere thru e-design. From consultations to full room designs. See my e-design services here.
I love to help you complete the look with the right mix of accessories too, for your next level look.
Love the home you live in!
7 Great Colors for an Inviting Front Door
Be in the Know Before Ordering Woven Shades
*As is expected, with "for designers vendors", they often give you access to unique products, some products may be in stock and others are special order, and shipping applies. My online vendor takes care of all the orders, shipping, and optional white glove delivery.
Some retail links on this post may contain affiliate links that may pay me a small commission at no cost to you. See their guidelines for shipping and returns.