We have been remodeling our downsize home and it was finally time to get a new sofa. I have worked for many years with the owner and staff of The Comfortable Chair Store in Roswell and know their quality brands well, so decided I would order my sofa from them.
I started with a classic Taylor King sofa, selected a skirted style (because they make their skirts so beautifully), and chose one of their great performance fabrics which are durable and easy to clean.  Fabrics have come a long way! I also found a great colorful pillow fabric for the 2 pillows that come with the sofa.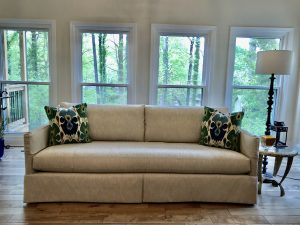 A waterfall skirt has no horizontal seams on the side or front for a more updated look

Fabric looks mostly solid from a distance but it has a nice tone on tone texture that will wear very well.  The neutral color will give me many looks over the years allowing me to change pillow and accessory colors and patterns.
Next I added two more pillows in my accent color, cobalt blue.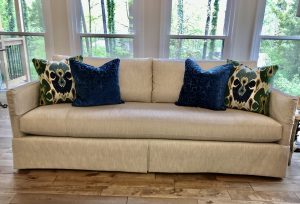 Then I added a throw I already had. A throw will make your sofa feel cozy, like it's there waiting for you to curl up with it.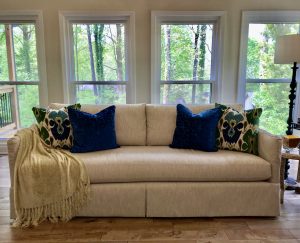 I added a lumbar pillow in the center to introduce another layer, size, and pattern. It has fun cobalt blue tassels at the corners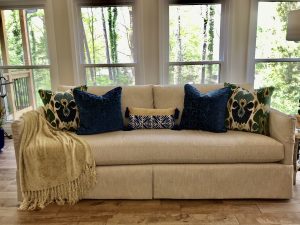 Also tried a blue throw. Which one do you like?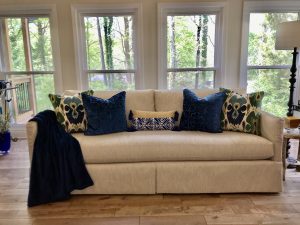 Then I added decorative accessories on the coffee table and sofa table to tie it all together. It's all about the finishing touches!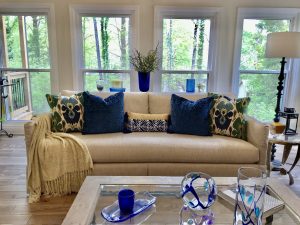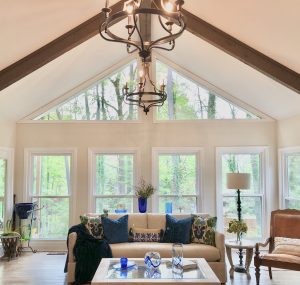 The next step is to add window treatments and here is a sneak peek drawing.. stay tuned!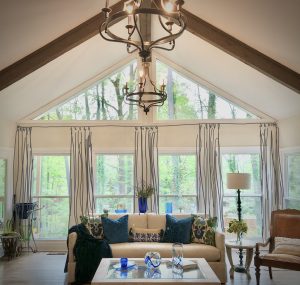 Even the nicest of sofas can use a little dressing up. Accessories take your furniture and room from blah to next level!
So don't leave your rooms looking undressed and incomplete, add the finishing touches that make your house feel like home!
Eleida Fleming    Next Level Interiors    E@nextlevelinteriors.com   678-935-6398
Serving Local North Atlanta, GA
Offering Online Consultations & Design
3 Things to Know Before Styling Your Sofa
Finishing Touches that make Any Chair Grand
The Easy Way to Add Texture to Your LR
15 Blue Pillows You Can Order Online Today