Bedrooms usually call for privacy and blackout or low light window treatments for those days we want to sleep in.
The best choices for the bedroom are blinds, shutters, shades or lined fabric panels that close.
in the picture below, the woven shades provide the privacy and the curtain panels mostly add softness to the room. Woven shades can be ordered lined.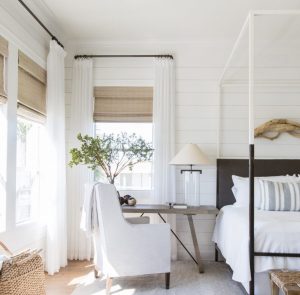 These are roller shades with a woven texture. They roll up and down vs having folds when they are pulled up like the woven shades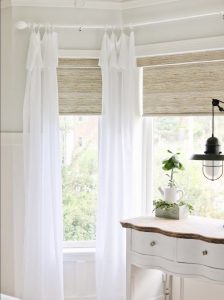 These are fabric Roman shades. Depending on the fabric and lining they can provide some light control or total blackout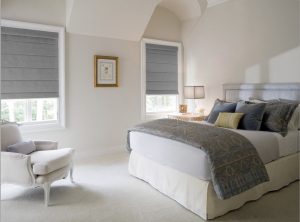 These honeycomb shades have a top down option, where the shade can be raised like a traditional shade but it can also be lowered from the top.  This allows some light in and privacy on the bottom of the window.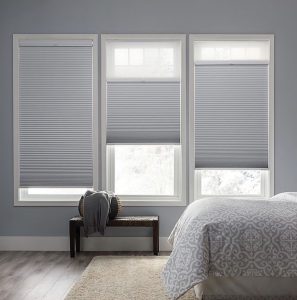 source
These wood blinds have an added decorative tape over the vertical cords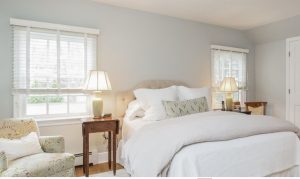 Shutters offer a very clean tailored look.  The main advantage over blinds is that you can control the top separate from the bottom.
Curtain panels can be added to shutters to soften the look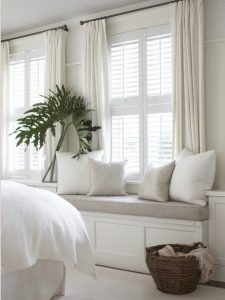 Shutters and blinds are mostly ordered in white to match the window frame but are available stained.  Shades have many material options.
Get your favorite privacy treatment and sleep in!
Why I Almost Always Specify Blackout
Be In the Know Before Ordering Woven Shades
When Opposites Attract..for a nextlevel look