I have worked with window treatments for over 30 years, so I've seen several trends. Remember the swags and cascades, and layers upon more layers with tons of tassel and bullion trims?  Yes I did those too back in the day…and they were considered beautiful and the most requested at the time.
We have evolved into simpler styles, which I think it's a great thing.  We now want homes with rooms we use and actually live in all the time. The top treatments that top all others now are simpler and more tailored.
Window Treatments have also evolved to be simpler and tailored. Even though pa els are the most common window treatments, top treatments or valances are still the most suitable for certain areas and windows.
Kitchens are one of the rooms for top treatments. Windows above cabinets and sinks need window treatments that clear the work area but can still add color and softness to all the hard finishes.
This client has traditional taste and decor, so we used a traditional pattern with an updated tailored design. Contrast fabric in the pleats and at the hem adds a nice custom accent.
Below we curved the hem and did a contrast band at the top with nail heads. Another adaptation of traditional items with an updated tailored design.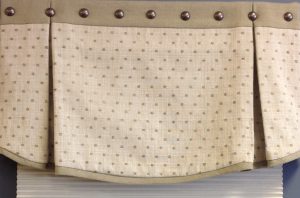 This fabric below was a jumping point for colors used throughout the room on pillows and accessories.

Top treatments can also be paired with panels, blinds, shades, or shutters. This client loves birds and wanted a print in her keeping room. A top treatment was a great way to showcase a print and add softness to the hard shutters.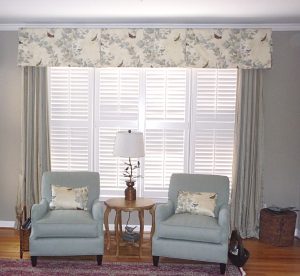 Just because panels are the thing now, don't discount top treatments. They are great in areas where lengthy fabrics would be too much or not practical.  Never under estimate the power of even a little fabric to soften and complete the look!
Need help deciding on the right window treatments for you?
Schedule your consultation today
Now consulting online too!
Window treatment asymmetry that works
Why I almost always specify blackout
Be in the know before ordering woven shades